Into Hinterland World is a side-scrolling shooter game developed 2015-2020 for the Commodore 64 home computer. It can be played with one player only or as a co-op two player game. It was released at the Excess & Abyss-Connection Party on January, 25th 2020 by Background of Abyss-Connection.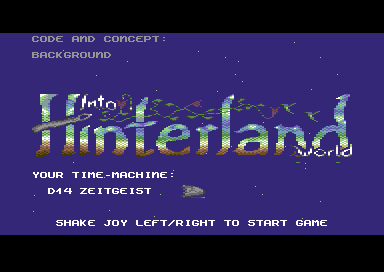 download Into Hinterland World (D64)
storyline
In 2085 90% of all lifeforms became extinct by environmental catastrophies. The planet was covered by epidemics and deseases.
Mankind was in danger like never before in history. A small group of scientists concluded that the only solution for these problems could be found in the past.
So, they began to collect and analyze gene-material from all geological eras.
Now it is up to you!
single-player or two-player co-op gameplay

For second player press fire on joystick two. Then, a satellite for the second player materialises.
time machine

Your time-machine is the D14 Zeitgeist.
Hint: Look below your ship at the flashing materialising-gate.
weapon system
Sterntaenzer Strength: 1, single shot

Irrlicht Strength: 2, single shot

Lichtmeer Strength: 2, double-shot

Nordlicht Strength: 3, double-shot

Lichtfinger Strength: 4, thermal-beam

Wirbelgleiter Strength: 5, double-shot

Flankenschlag Strength: 6, double-shot

Vollstrecker Strength: 7, emp / double-shot
collectable items

energy up This gives you better weapons and the power to repair your ship. Collect every energy pod to survive a crash. You have to collect all energy capsules! Otherwise your armoury and the whole mission is in danger.

shield In the game you get one more shield if you collect this item.
credits
All code, graphics and some music by Background of AC. For contact, please, write to background(at)abyss-connection.de .
Additional music was contributed by Henne of AC and fieserWolf of AC. Additional sprites by Sebastian Pliet. Support by Uli and Bethor. Additional support by Elisa, Julia and Carmen.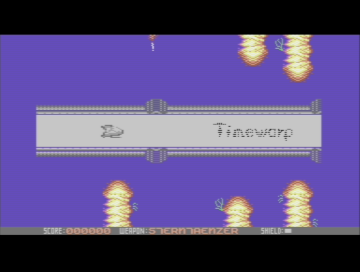 links
version by Laxity (EasyFlash crt-cartridge) thanks to CommFor in Forum64